Is Simply Skin for you?
Follow this chart to find out if simply skin is for you!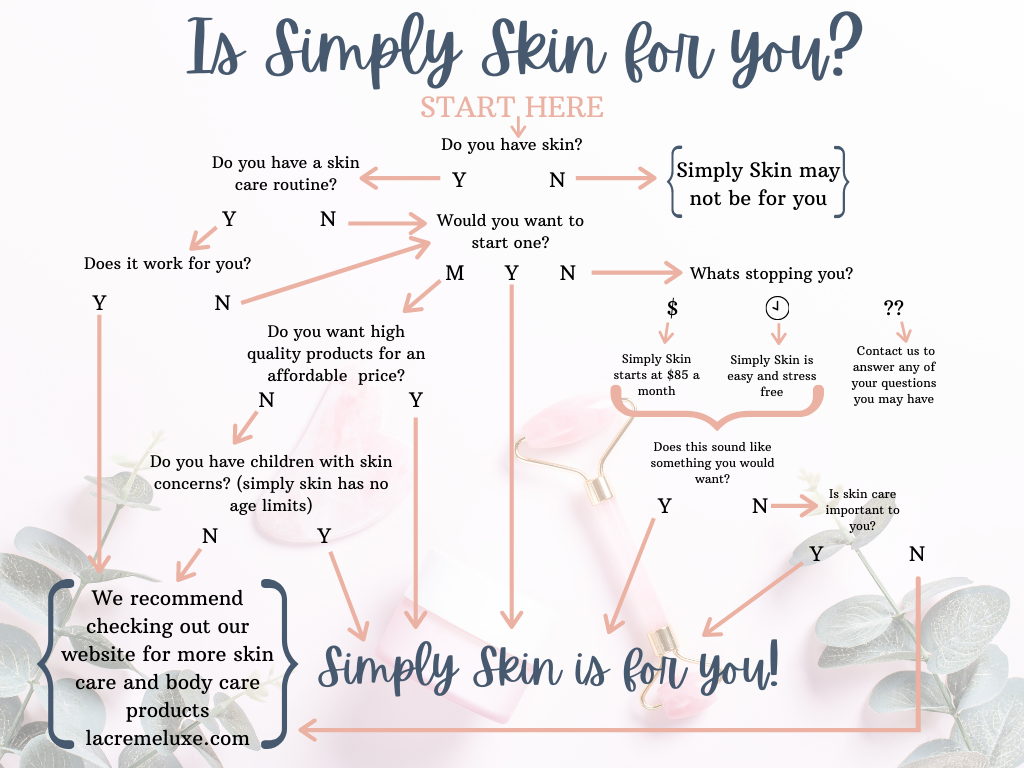 IS Simply Skin for you? We want to help you find out if this is for you! The great thing bout Simply SKin is that it's most likely for you or someone close to you! 
Let's start with an easy question, do you have skin? 
Yes: GOOD NEWS, you already qualify for simply skin! That was easy!
No: Hmm, not sure what to tell you, but simply skin won't work for you, but if you don't have skin, you may have bigger things to worry about 
Next question, Do you have a skin care outline already? 
Yes: That's awesome! You're already ahead of the game; however, does it work for you? Do you see the results you wanted? 
No: that's ok! It's never too late to start!
Whether you have a skincare routine that just isn't giving you the results, or you don't have a routine at all, would you be interested in starting one?
Yes: YAY! Simply Skin is definitely for you and a great place to start. It's the best way to get the best quality skincare for an affordable price and regularly.
No/Maybe: We want to know what's stopping you? Is it money, time, or something else? Simply Skin starts at $85/month, and this is the lowest possible price you can get for quality skincare. Is it not having the time to commit to a routine? That's ok, and we start with a simple routine that will only take you a few minutes each day. It's a good way to start a routine. We start with a cleanser, toner, and moisturizer. simple and stress-free. We automatically ship you your product every three months, so you don't have to worry about running out of product or ordering it on time. If you have any questions or are hesitating about starting simply skin, we encourage you to connect with us to answer all your questions! 
Is skincare important to you?
Yes: oh good! It's super important to us too! If skincare is important to you, then simply skin is just trite for you!
No: Maybe Simply Skin isn't for you at this point but maybe in the future! In the meantime, we recommend checking our tour website to see the products and sieves we offer!
Do you like high-quality skincare products for an affordable price?
Yes: Great! That's exactly what Simply Skins' goal is, to provide you with the highest quality of skincare for a price that won't break the month every couple of months.
No: hmm, this is awkward...Simply Skin may not be for you but remember: "good skincare isn't cheap, and cheap skincare isn't good."
Do you have children (teenagers specifically) with skin concerns?
Yes: Simply Skin would be a great place for them to start! Simply Skin is a great introduction to skincare and keeping a routine to have healthy and glowing skin. Additionally, we will be the ones contacting them, so it takes some more stress off of your plate!
No: We would suggest visiting our website to see the other skin and body products we offer.
Hopefully, you can determine if you need Simply Skin or someone you know needs it between this post and the flow chart. 
Have questions? Contact us, we are here to help!
Learn more about your skin
More from the Fresh Faced Blog